Festivals and events
The Kuwaiti community is known for the strong ties between its members. Hospitality and celebrations play a major role within the community, where members are ready to share and celebrate special occasions with one another.
These occasions maintain their importance, and people reverently await them. Celebration of religious occasions differ today.
On religious holidays, stores and institutions close their doors. Families and friends exchange visits.
Hala February. This festival is an annual month-long cultural extravaganza, that takes place in Kuwait to celebrate the arrival of spring. It is a time when the parched sands of the desert transform into a carpet of grass, which becomes covered with blossoming flowers. The country welcomes back the migratory birds which add further color and beauty to the desert.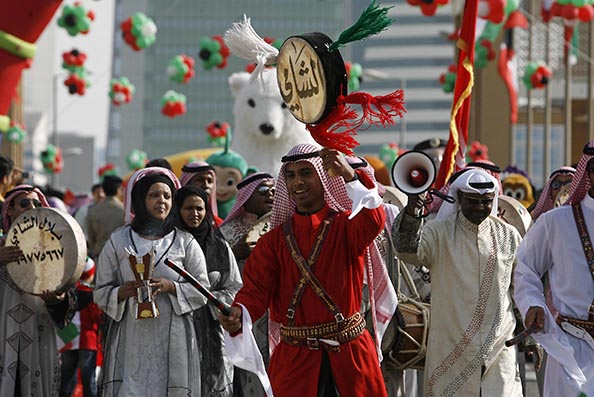 Ramadan
    The holy month of Ramadan is celebrated throughout the entire Muslim world. It is a month of fasting, marking the time when the Qur'an was revealed to the Prophet Muhammad in the first Islamic century. For the entire month, Muslims abstain from food and drink during daylight hours. The beginning of Ramadan depends on the first sighting of the new moon and continues for approximately 29 days.
Al-Qarqiaan
It is on the thirteenth, fourteenth and fifteenth nights of Ramadan. As in the past, children wander through the neighborhood while singing, where they receive candy and treats from the houses they visit.
Eid al Fitr
  This is a widely celebrated event that marks the end of Ramadan. Children receive 'eidiah,' money given by older relatives as a present and gifts are shared by all.
Eid al Adha
    This is a sacrificial festival that falls on the 10th day of Dhu Al-Hijjah in the Islamic calendar; which generally lasts for three or four days. During this time, Kuwaitis put on their best clothes and visit friends and family to congratulate and offer gifts.
Other holidays according to the Gregorian calendar include: New Year on January the 1st, National Day, celebrating Kuwait independence in 1961, on February 25th, and Liberation day, celebrating Kuwait liberation from the 1990 Iraqi occupation, on February 26th.
Traditional Costumes
The difference between the past and the present has become apparent in costumes and garments the Kuwaitis wear today. Arab garments changed to suit the current cultural and environmental conditions. Nowadays, men and women alike wear western designer clothing.
However, Kuwaitis are aware of the importance of preserving their national customs as a symbol of national identity. Hence, men prefer to wear the Kuwaiti traditional Deshdasha. Moreover, Kuwaiti women have maintained their traditional costumes by wearing long dresses, veils and cloaks.
This variation reflects the personal taste and the styles of the day, along with traditions. Usually, a Kuwaiti woman wears western clothes when she goes to work and going out. Some women wear the traditional dress, the Darraa when they grow old.
Traditional Costumes for Kuwaiti Men
Trousers: Long white cotton cloth that is cut and shaped into trousers. It falls straight to the ankle.
Deshdasha: A wide white cotton robe. It has a narrow central front opening and long sleeves.
Besht: A cloak made of wool or soft spun fluff. Its color is generally black, but may also be cream, gray or brown. Each type has a different thickness according to its use.
Farwa: A wool coat padded with sheep wool. Its hems are embroidered with ribbons of the same color or contrasting color with different geometrical decorations.
Qahfiya: A closefitting cotton head cap, worn under the Ghutra.
Ghutra: A headdress made of a piece of cotton cloth worn only after being folded in a triangular shape. When it is made of a red and white-checkered cloth, it is called "shemagh", and when made of white cashmere wool with edges embroidered with flowers, it is called "shawl".
Iqal: A double circlet of twisted black, brown or white cords separated from each other by colored wool or gold cords, worn on the head atop the Ghutra.
Vest: A sleeveless jacket worn over a deshdasha.
Traditional Costumes for Kuwaiti Women
Trousers: Long piece of underwear that is cut and shaped to fall straight to the ankle. It is embellished with ribbons embroidered with gold thread. It is made of cotton or silk in bright colors such as green, red and blue.
Darraa: A long robe with long sleeves made of cotton or Indian silk embroidered with gold thread.
Zeboun: A long fine robe made of silk embroidered with gold thread. It has a narrow central front opening and long sleeves. It opened so that the front parts are wrapped around the body. Wealthy women usually wear it.
Thoub: A wide robe with long sleeves and oval wide centeral front opening. Names of the thoub differ according to its color, thickness and embroidered decorations, such as: jazz, amfah, thuraiya, mukhawas, manthour, and tour.
Malfaa: A scarf that is tied tightly around the head and face and tucked in at the back to conceal the hair.
Shila: A black headdress worn by the Bedouins.
Burqu: A short rectangular black face veil that covers from the forehead to the end of the neck..
Bushiya: A face veil that covers the face completely. It is worn by city women.
Abaa: A silk or wool black cloak that envelops the body from top to toe.
Traditional Costumes for Kuwaiti Children
Bakhnaq: A black headdress worn by little girls. It is embroidered around the head and in the front.
Kahfiya: A head cap made of black cloth. It is embroidered with colored silk thread, gold thread and blue stones.
---
Folk, Music and Dance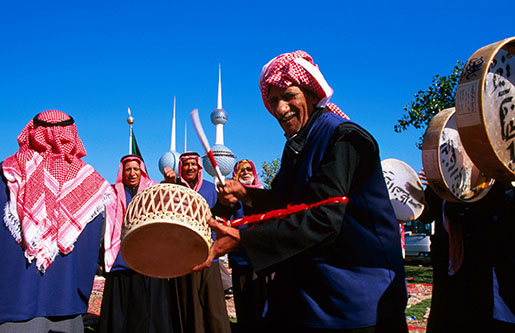 Folk music and dance have represented important aspects in Kuwaiti society mainly created during the era of pearl diving and maritime trading; where men spent most of their days on sea. Traditional Kuwaiti music reflects the diverse influence of many different cultures and the main musical instruments for most of the songs were drums and clapping.
Though folk songs and music still exist and are found in modern Kuwait, a new image has been created for old folk melodies with new lyrics written from the old traditional folk melodies.
The following are a selection of most important folk songs and dances:
Al-Fann: Al-Fann is usually performed at weddings.
Al-Khamary: One dancer performs Al-Khamary wearing a cloak that cover part of her face.
Al-Sameri: It is a song accompanied by a dance, which is usually performed at weddings. The performing band is divided into two groups. The first group beat the tambourines while the second sing. The dancer wears a "thoub" and covers half of her face with it.
Al-Fareesa: This dance is performed on national and religious feasts by a special band.
Al-Arda Al-Bahariya: It is one of the most famous Kuwaiti sailors songs that are known for its charming and distinct melodies. The song is performed when the ship comes close to the shore after weeks of sailing on the high sea. The sailors beat drums and tambourines to celebrate their safe arrival.
Al-Arda Al-Barriya: This song and dance is about war and peace. Men perform this dance as they walk in a circle holding their swords demonstrating their use and skill with the sword. They are accompanied by the rhythm of drums and singing of a special band.
Al-Nahma: The "Nahham" performs this song on the ship deck. Other types for Al-Nahma are performed accompanying each activity performed by sailors.
Al-Sout: It is performed accompanied by a lute and a small drum called the "merwas". Two men perform "Zaffan", which is the dance accompanying the song. When Al-Sout is performed at night gatherings of men, it is called "Samra", which means chatting by night.
Source: Kuwait Government Online website